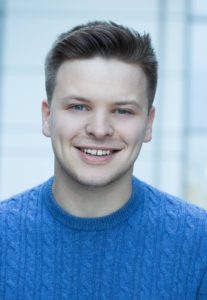 Aeron James is a 24 year old British Performer, Social Media Manager and Creator who is going on many adventures to find his place in the world.
Aeron's training includes a BMus(Hons) degree in Professional Music Performance from The Academy of Contemporary Music (ACM), a Foundation Course in Acting at Royal Birmingham Conservatoire (Acting) and two terms at Musical Theatre Masterclass, culminating with a performance at West End Live.
Some of Aeron's favourite places to have performed include West End Live, The Other Palace and Birmingham Symphony Hall. For performance and training credits please check out his CV page.
In 2017 Aeron was selected as one of the six TodayTix UK Social Ambassadors for the 2017/18 season. During this season Aeron worked with TodayTix and West End shows to create content and promote the app and shows across his social media channels. Aeron also has previously worked with gay dating app Chappy as a brand ambassador.
In 2018, Aeron was nominated for the "Rising Star" award at the Diversity in Media Awards 2018. Since then he has collaborated with brands such as TikTok, Gay Star News, Disney Store as well as many West End shows.
Aeron's online presence is continually growing and in 2018 Aeron founded his own theatre platform, West End Picnic. West End Picnic is focussed on bringing theatre news, exclusives and events to audiences in the most accessible way possible.
Aeron is a former writer for both The Daily Spectacle & GTENmedia and can currently be found on his YouTube channel, Instagram and Twitter.
In the past year Aeron has been growing his career in social media management