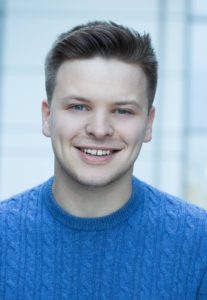 I am a 22 year old British Performer and YouTuber who is going on many adventures to find my place in the world.
I am currently one of the six TodayTix UK Social Ambassadors for the 2017/18 season. With TodayTix I gets to watch the shows of the West End and help provide an inside view into Theatreland. I am also an ambassador for the gay dating app, Chappy. The dating app that safely helps you find Mr Right, Mr Right Now or Mr Who Knows. I was nominated for the "Rising Star" award at the Diversity in Media Awards 2018.
I recently graduated from The Academy of Contemporary Music obtaining a BMus(Hons) degree in Professional Music Performance and previously trained at the Royal Birmingham Conservatoire (Acting) and Musical Theatre Masterclass. Some of my favourite places I have performed include West End Live, The Other Palace and Birmingham Symphony Hall. For performance and training credits please check out my CV page.
My online presence is continually growing and can currently be found on my YouTube channel, as a blogger for The Daily Spectacle & GTENmedia and also on a range of social media platforms including Instagram and Twitter.